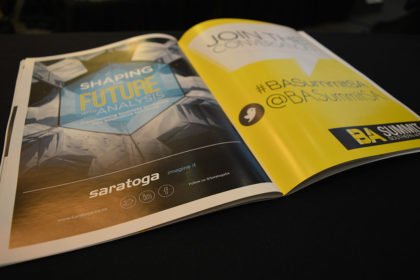 International and local business analysis thought leaders will come together at the 2017 BA Summit to discuss the 4th Industrial Revolution – and how the business analysis profession can thrive during this time. The Summit takes place on 5 th and 6 th September in Somerset West and the range of talks will focus on topics such as future fundamentals, fresh perspectives, organisational agility, and methods, tools and techniques.
To invest in the business analysis profession and our business analysis thought leaders, Saratoga signed up as a gold sponsor for the 2017 BA Summit. "We're very excited to have Saratoga as a sponsor at this year's summit given their involvement with the chapter over the past few years" says Ryan Folster, President of IIBA-SA. He adds that Saratoga has continually been involved with providing volunteers and speakers for events as well as board representation within the IIBA.
Mark Gebhardt, CEO of Saratoga, is delighted that Saratoga has the opportunity to come on board again this year to support the BA Summit. "Saratoga has played a leading role in shaping the South African BA community for a number of years now and we see our involvement in the summit as an opportunity to give back to the BA profession. The BA Summit is the pinnacle of all things business analysis in South Africa and we are looking forward to being part of the action".
Saratoga is also very excited to have two of our business analysis experts presenting and sharing their insights at the summit this year.
Principal Consultant and Competency Lead at Saratoga, James Neethling will be presenting his talk, 'Designing Agile Business – 6 lessons from the trenches' on Tuesday, 5 th September. Neethling's talk will focus on the responsibility of BA's to help design organisations to be more agile and responsive to change, particularly now in the 4 th Industrial Revolution. "Our colleagues in software engineering have revolutionised the way they deliver software, and I'll be applying some of the philosophies and principles they developed to show how we can apply these to the way we design our processes. All it takes is a constant stream of small optimisations to eventually lead to a leaner, more agile organisation. Join me to find out how you can optimise your project."
Bharn Burgers, Senior Consultant at Saratoga will be presenting on Wednesday, 6 th September and his talk is titled 'Shaping the Customer Experience Future through Customer Communications Management'. "I'll be giving a glimpse into my journey of working with Customer Communications Management over the past 15 years and how my views have evolved in terms of the problems to be solved and especially the value to be added. I will explain how the focus in the market has shifted from purely technical considerations towards using CCM as a key strategic tool."
As a gold sponsor, Saratoga also has the opportunity to host a lightning talk session during the Summit. The lightning talk sessions will be a series of short and concise talks which are packed with value and insights. Our Saratoga lightning talk session on Tuesday, 5 th September will remind business analysts how to be prepared, intentional, proactive and mindful to benefit their day-to-day work and ultimately, their career growth. Come level-up with our lightning talk session!
Leading up to the BA Summit, and during the two day event, Saratoga will be sharing insights on our various platforms. Follow us on Twitter at @SaratogaSA and connect with us on Facebook, or find us at saratogasoftware.com.