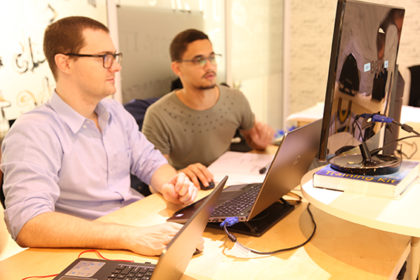 We partner with successful companies and convert their business ideas into meaningful technology solutions. By combining our decades of delivery experience expertise with our large pool of phenomenally talented, enthusiastic, fulfilled and driven technology professionals we work with business people to see their great ideas successfully delivered.
A testament to this is that Saratoga is now being featured by Clutch on a shortlist of the top 100 software development companies in 2018. Clutch is a Washington DC based research, ratings and reviews firm that covers thousands of B2B firms from over 500 different industries. Each company is evaluated and ranked on multiple criteria such as market presence, client feedback, and industry experience. The platform allows firms to compare similar services and choose the one that best compliments their future business plans.
For one of our projects recently featured on Clutch, we helped a supply chain business to rewrite their base legacy code to develop a platform for a client dashboard. We built out new features, which would help the company become more innovative and competitive in their market. Our team was able to re-code and further develop this platform to have a fresh look and new capabilities.
"As a collective team, they've helped us meet our delivery dates, stay within budget, and satisfy our customers. When we implemented the first version of the product, we held a user conference to demonstrate the platform. Customers commended us for sticking to timelines and remaining within budget. We couldn't have done that without Saratoga's involvement."
To read more about this and other successful projects visit our Clutch profile.
Our teams of technology and business experts are dedicated to making a real impact in the way technology is delivered, used and managed. We do this by providing technology-related insights and delivering solutions to companies where technology is core to their business.
Our Managed Delivery, Co-sourcing, Professional Resourcing and Technology Advisory services create a digital future for our clients through the transformation of their current technologies.