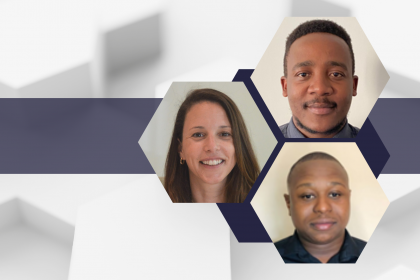 Following our article, 'The value of leadership training for professionals', where we share a short overview of the leadership training our Saratogans complete – we take a closer look at the experiences and lessons learnt by our staff from the 2022 Leader Within programme.
Beyond the valuable programme material and leadership theory that our staff are exposed to during the Leader Within course, the training also aims to develop Saratogans on a personal level as the training material is equally beneficial to their personal lives and interactions.
At the beginning of the programme all the participants are matched up with a 'buddy' and this gives our staff the opportunity to reflect on the lessons from each session and to explore their individual interpretations of how they can most effectively use the course material in their daily lives. For Tafadzwa Chatikobo, Developer at Saratoga, he really appreciated Saratogans sharing their experience of the training with each other as well as the opportunity to meet more Saratogans.
As the Saratoga team continues to work mainly remotely, our staff members really enjoyed the opportunity to connect and work more closely with colleagues from different teams and business units within Saratoga during the training. "I enjoyed getting to know my fellow Saratogans. You get to interact and learn more about the group on a personal level." – Ann–Yasmin Bachar, IT Recruiter at Saratoga. The attendees also had regular opportunities to discuss the training material further in break out rooms where they could share their personal insights during the programme.
For many of our staff attending the training, an important realisation was that everyone is different in the way they think, communicate and work. The course raises important awareness about different personality types and equips our staff to identify and understand their own personality traits as well as how to identify these in others. This self-awareness is key in creating a better understanding of your motivations, strengths, weakness and interests – and importantly, how you can more effectively work with others who may have very different approaches or needs in a specific situation.
This focus on finding a common 'language' in how we work within Saratoga creates a positive and supportive culture where learning and continued development is encouraged. Shingirai Chitongo, Developer at Saratoga, appreciates 'how a small group of around 20 people with so many different personalities can come together and still manage to have constructive engagements.'
Another important aspect of this training programme is that it provides our staff with the opportunity for self-introspection, to identify areas of growth professionally and personally and encourages the attendees to reflect, adapt and grow their leadership skills. With a strong focus on the importance of emotional intelligence, attendees also develop their soft skills enabling them to more effectively use their unique strengths and perspectives to contribute towards their career growth, their teams and Saratoga as a whole.
"Leadership is not necessarily about managing people towards achieving a goal, but is rather about inspiring others to dream big, learn more and do more!" – Ian Mutsenga, Developer at Saratoga.
We're always looking for talented technology and business professionals to join the Saratoga team. Visit our Careers page to find out more about our open roles and what it means to be a Saratogan.