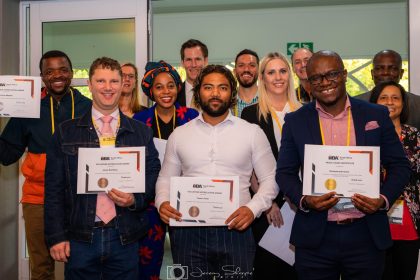 Cape Town: The Beating Heart of South Africa's Tech Revolution
Nestled at the foot of the iconic Table Mountain, Cape Town is more than just a scenic marvel—it's the pulsating heart of South Africa's tech and IT industry. This vibrant city, with its rich blend of culture and innovation, has emerged as the nation's Silicon Valley and attracts top-tier talent and fosters a hotbed of technological advancements.
It's no wonder. With some of the most prestigious universities and research institutions in Africa in our home town – University of Cape Town ranks first in Africa and 419 in the world – means we have an unparalleled ecosystem for technological growth and creativity. It's a place where academia and industry intersect, where disruptive fintech meets legacy finance, and where a steady stream of skilled professionals are poised to tackle the challenges of the digital age.
How Software Development Companies Solve Real-World Problems
South Africa does not have challenges that are unique unto itself. Like many developing countries, there is a large informal economy, and many opportunities lie in providing digital solutions for those who are unbanked, need public transport, medical health, and so on.
At Saratoga, we are not just participants but pioneers in our support of those who drive innovations in these areas. Our software developers solve complex business challenges through bespoke software solutions.
With decades of experience in creating bespoke solutions for companies in financial services, banking, insurance, logistics, retail, media, and more, we have the acumen and expertise to make challenging situations go away, with excellence, and ease.
What Does a Software Development Company like Saratoga Do?
At its core, a software development company is a problem-solver. From crafting tailor-made software that meets unique business needs to integrating disparate systems for seamless operation, these companies handle it all.
Our arsenal of talent includes custom software development, ongoing systems support, and proactive maintenance to ensure businesses stay ahead in the fast-paced digital arena.
Are Software Developers in Demand in South Africa?
Absolutely! South Africa is a hotbed for digital transformation, and at the heart of this revolution are software developers. With an insatiable appetite for tech solutions across industries, the demand for skilled developers has never been higher. It's a sector that's not just growing; it's thriving.
The Saratoga Advantage: A Symphony of Tech Solutions
Saratoga might look like a tech company, but we are actually a people-company. Our talented, highly skilled team is what makes us stand head and shoulders above the rest, and we know it well.
To this end, we offer an orchestra of services that harmonise technology with business strategy.
1. Managed Delivery of Excellence
From the genesis of an idea to its final deployment, Saratoga ensures a managed delivery of custom software development, blending innovation with reliability. Our support and maintenance services are not just about fixing issues; they're about future-proofing your business.
2. Co-sourcing / Outsourcing Mastery
Embrace flexibility without compromising expertise. Saratoga's co-sourcing and outsourcing services span the entire spectrum of tech needs:
Business Analysis
Software Development
Quality Assurance
Project Management
Solution Architecture
Business Intelligence
Business Architecture
3. Building Teams with the Right Fit for Your Culture
Saratoga doesn't just find talent; we find the right fit. Our acute understanding of the tech landscape enables us to match businesses with professionals who not only have the skills but also share the vision.
4. Technical Advisory: The Blueprint for Success
In a world of constant technological evolution, staying ahead means staying informed. Our technical advisory services provide a roadmap to modernisation:
Technology Modernisation
Agile Process Implementation
Technology Assessment
BA Competence Design & Implementation
QA Process Assessment & Design
Systems Procurement Management
A final thought
In the South African software landscape, Saratoga has been there from the start. With a keen eye on the present and a visionary gaze into the future, we offer services that make your vision a reality.
Ready to explore what Saratoga can do for your business? Contact us today to begin your journey towards digital excellence.