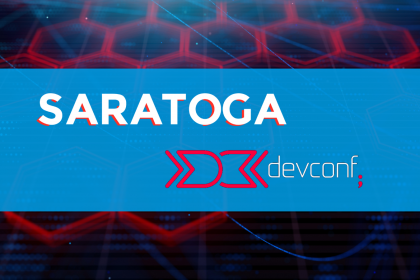 'Insightful, stimulating, diverse, inspirational and exciting' are just some of the words used by our Saratogans to describe the recent Devconf events.
Devconf is a community-driven, professional software developer focused series of conferences, which bring together the South African developer community to network and share insights. A number of our Saratoga developers recently attended the Cape Town, Joburg and Virtual events and here share some of the highlights and lessons from their conference experiences.
Devconf provided attendees with a variety of talks on different topics including practical coding, working remotely in teams, and leadership in technology. "There's always something to learn from others, especially in the technology industry as a similar problem is often solved differently in various organisations, and it's worth hearing what other teams are doing in their organisations." says Sheltone Mavesere, Developer and virtual Devconf attendee.
A favourite talk among many of our attendees was the 'State of the Developer Nation: What it's like to be a developer in South Africa in 2022' by Philip Joubert. The talk discussed statistical data on how the software development industry has had a paradigm shift since the beginning of the COVID-19 pandemic and how fully remote work has opened international opportunities like never before. The talk didn't just focus on salaries, but touched on how the quality of life and work/life balance for software developers has improved since most companies have adopted fully remote and hybrid styles of working.
Another talk that also sparked keen interest among our Saratoga attendees was by Dan Wells, about his experience as one of the two developers who built the 'EskomSePush' app, which is now used by over 2.6 million people in South Africa. In his talk he also shared how to leverage free resources and open-source technologies to reduce costs, while not compromising on the quality or performance of your application.
Of the many lessons learnt during the conference, Daniel Barrett, Lead Developer, highlights a key personal takeaway from the virtual event. "We've been on a journey at our client where we are trying to develop a sustainable way of work for partner development using remote working as a key input. I attended three talks which shared about similar journeys and these validated everything we're doing and trying to achieve as a team in this process."
For Kyle Josias, Developer and virtual Devconf attendee, this quote by Tanaka Mutakwa really hit home, 'when looking back on your career, you always remember your managers and mentors'. This quote made Kyle realise how vitally important it is for leaders to understand how their interactions with individual team members have lasting effects psychologically, and how they can have a significant impact on your career growth.
Andrew Schroeder, Lead Developer and virtual DevConf attendee, especially enjoyed the talks on developing one's soft skills. "Important lessons are not always about the latest and greatest technology, but also about how we collaborate with each other in our teams and organisation".
Industry events such as Devconf is important for technology professionals to attend because it gives them the opportunity to connect with other like-minded individuals, gives them exposure to developers who have followed different career paths and shares a glimpse into the broader developer community and future of the industry.
Willo van der Merwe, Technical Competency Lead at Saratoga and Cape Town Devconf attendee, believes that "industry events like the DevConf provides exposure to new ideas and ways of thinking, provides developers with affirmation of your ideas and processes, and is a great opportunity to build and maintain relationships within the technology industry." These types of events also expose tech professionals to industry trends, more advanced ways of building and running software applications and reminds developers that there is always still so much to learn and discover in software development.
Overall, the 2022 Devconf series of events was a massive success, well put together, and our Saratoga attendees had a blast. Our team really enjoyed networking and speaking with fellow developers from other companies, sharing their similar experiences and difficulties, and appreciated the variety of different talks and how each presenter had a unique way of delivering their message.
Thanks, Devconf!